Heathrow Personal Rapid Transit Pod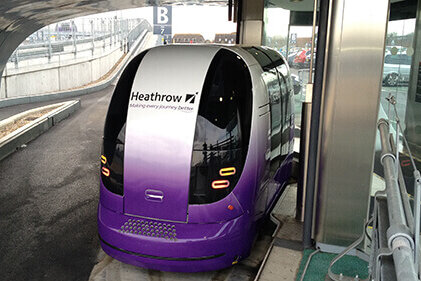 23

Aug, 2016

The Heathrow Personal Rapid Transit Pod was developed using Corex aluminium honeycomb by TRB Lightweight Structures. The PRT (Personal Rapid Transit) Pod is an ultra-lightweight, electric, unmanned vehicle connecting Heathrow's business car park with Terminal 5 via a guide way. TRB Lightweight Structures produced the chassis and floor of the pod utilising Corex Honeycomb composite panels to create a lightweight, high-strength structure.

The PRT or Ultra (Urban Light Transit) is a PODCAR system developed by the British engineering company Ultra Global PRT (formerly Advanced Transport Systems).

The first public system opened at London's Heathrow Airport in May 2011. It consists of 21 vehicles operating on a 3.9-kilometre (2.4 mi) route connecting Terminal 5 to its business passenger car park, just north of the airport.

To reduce construction costs, Ultra largely uses off-the-shelf technologies, such as rubber tyres running on an open guide way. The approach has resulted in a system that Ultra believes to be economical: the company reports that the total cost (vehicles, infrastructure and control systems) is between £3 million and £5 million per kilometre of guide way.

The system was originally designed by Martin Lowson and his design team; Lowson had put £10 million into the project. He formed Advanced Transport Systems (ATS) in Cardiff to develop the system, and the site was later the location of its test track. The Heathrow Personal Rapid Transit Pod has twice been awarded funding from the UK National Endowment for Science, Technology and the Arts (NESTA). Much of the original research was done by the Aerospace Engineering department at the University of Bristol in the 1990s. Recently, the company renamed itself to "Ultra PRT Limited" because of its primary business, and it moved its corporate headquarters to Bristol.

The electric-powered vehicles have four seats, can carry a 500 kg payload and are designed to travel at 40 km/h (25 mph) at gradients of up to 20%, but the company has suggested limiting operating routes to 10% gradients to improve passenger comfort. The vehicles can accommodate wheelchairs, shopping trolleys and other luggage, in addition to the passengers.

Each Heathrow Personal Rapid Transit Pod is powered by four car batteries, giving an average 2 kW and adding 8% to the gross weight of the vehicle. Other specifications include a 5 m turning radius, an energy requirement of 0.55 MJ per passenger-kilometre, and running noise levels of 35 dBA at 21.6 km/h, as measured at a distance of 10 m.

The company has also developed designs for a freight version. It has the same external appearance as the passenger version, but its entire internal space is adapted to host a cargo capsule. They can be valuable in airport environments, where the network can be used to haul small freight.