The Aluminium Honeycomb Manufacturing Process
The aluminium honeycomb manufacturing process is complex as seen in the video above, which shows the journey from foil to expanded honeycomb, made in our factory in Cambridgeshire, UK.
The illustration above shows the manufacturing process step by step, with the description of each stage below:
Corex aluminium honeycomb manufacturing begins life as a roll of foil .
Foil is passed through a printer for adhesive lines to be printed
Once the lines are printed, the foil is cut to size and stacked into piles using our stacking machine.
These stacked sheets are pressed using a heated press to allow the adhesive to cure and bond the sheets of foil together to form a block of honeycomb.
The block of honeycomb can be cut into slices. The thickness of the slices can be tailored to each customer's individual requirements.
Finally, the honeycomb is expanded, which completes the manufacturing process.
The honeycomb core can be used sandwiched in-between two aluminium alloy skins to create an aluminium composite panel.
The most popular honeycomb manufacturing methods of sandwich panel construction are:
Heated Press – Used for the production of flat board or simple panels
Vacuum Bag Processing – Used for curved, large and complex panels
The Corex aluminium honeycomb range can be supplied in a variety of conditions, tailored to the individual needs of the customer:
Aluminium Alloy Grade 3003 and 5052
Full blocks or cut slices
The aluminium honeycomb block is the end result of the honeycomb manufacturing process. The blocks can be cut into individual unexpanded slices. The thickness depends on the customer requirement. The unexpanded slices can be expanded to form the finished expanded sheet. Corex Honeycomb sells honeycomb in all three formats: as blocks, unexpanded slices and expanded slices/sheets.
Perforated or non-perforated
Non-volatile adhesive is used for bonding skins to the honeycomb core to prevent possible build-up of volatile substances during the curing process. This may be alleviated by using perforated honeycomb.
Corrosion treated or untreated
For most applications corrosion treated aluminium honeycomb is supplied. This means the aluminium foil has a surface coating applied to it before being made into a block. The treatment is carried out in-house and prevents the aluminium from corrosion. Furthermore, it improves the bonding properties of the aluminium and is therefore recommended for most panel manufacturing applications.
Drilled
We have the capabilities to drill unexpanded core, allowing air to flow between the cells upon expansion. This can be carried out in a variety of diameters depending on customer requirements and the honeycomb cell size.
Expanded or Unexpanded
In its unexpanded form, aluminium honeycomb is very compact and easy to ship cost effectively and with minimal risk of damage. Unexpanded cut slices with a large cell size or thinner slice can be easily expanded into their full sheet form, without the need for sophisticated equipment. Corex Honeycomb can supply a Hand Expander for this purpose.
Corex Honeycomb's standard aluminium honeycomb can be expanded to the following sizes:
W 2500mm x L 1250mm
W 3000mm x L 1500mm
Other block sizes are available on request. Depending on cell size, up to 18000mm can be achieved in the W direction.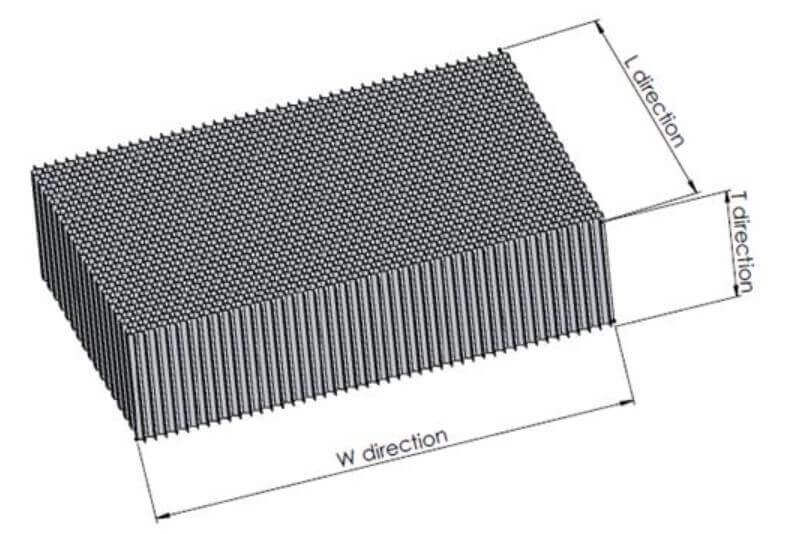 W = Transverse direction( perpendicular to core ribbon)
L = Longitudinal direction( parallel to core ribbon)
T = thickness
Honeycomb blocks can be cut to thicknesses to suit individual customer requirements. Using the latest cutting technology, Corex Honeycomb is able to supply slices up to a tolerance of +/-0.125mm with a minimum slice thickness of 3mm.
Aluminium honeycomb can potentially be expanded "by hand" when slices are thin and/or with a large cell (1" and ¾"). However, for thicker honeycomb slices, a small cell size and/or high density, specialist automated expansion equipment will be needed. Corex can supply aluminium honeycomb in both expanded and unexpanded formats. Please contact us for further information.
Honeycomb cell sizes
---
25.4mm/ 1", 19.1mm/ 3/4"
These cell sizes are the largest which Corex Honeycomb manufactures, making this the lightest and (most cost effective) honeycomb. It is suitable for less demanding applications such as large panels used in architecture, interior design and building facades.
---
12.7mm/ 1/2", 9.5mm/ 3/8", 6.4mm/ 1/4"
Medium cell sizes have very good strength, weight and cost ratio making this our most popular aluminium honeycomb. This size honeycomb can be used in a wide range of applications including marine, rail, construction and motorsport.
---
4.8mm/ 3/16", 3.2mm/ 1/8", 1.6mm/ 1/16"
Small cell sizes result in higher density honeycomb, which makes this material heavier than larger cell sizes. This type of honeycomb achieves the highest strength available. It is mainly used in the most demanding applications to create extremely resilient sandwich panels.
---
Engineering support
Corex Honeycomb is part of a group with more than 20 years experience in manufacturing, engineering and design of composite materials.
Technical Support
Corex Honeycomb offers engineering support services including:
Consultancy
Design Solutions
Simulation (FE Analysis)