Corex Honeycomb to attend JEC World 2022 in Paris, May 3rd – 5th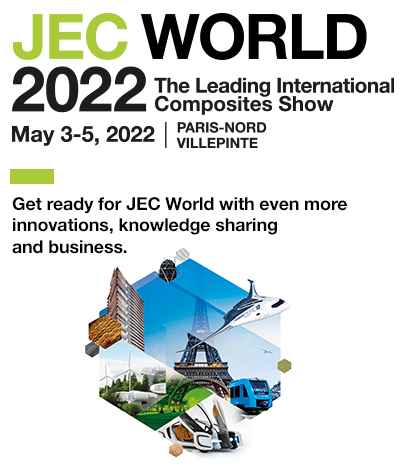 22

Apr, 2022

The Corex Honeycomb team have spent the last few months preparing to exhibit at JEC World 2022. The event goes live from Tuesday 3rd May until Thursday 5th May and is taking place at the Paris-Nord Villipinte, France, as well as online via the JEC World Connect platform.

JEC World is the Leading International Composites Show; "the place to be" for all composites professionals around the world. The event brings together not only all major global companies, but also innovative start-ups in the field of composites and advanced materials as well as experts, academics, scientists, and R&D leaders. At the last in person show in 2019, JEC World recorded 43,500+ visitors from 112 countries, as well as being joined by 120 journalists and over 1300 exhibitors.

JEC World Connect is the virtual meeting place for all the composites community, consisting of an online tradeshow with hundreds of digital booths, a conference programme and networking areas to help visitors discover the latest innovative solutions presented by the composites industry. Those who have registered for the event can meet and interact with visitors, exhibitors, and speakers as well as discover product demos, videos and discuss via chat rooms.

Corex Honeycomb will be exhibiting in person at the event and will also be available for online meetings throughout the two days of the show. With thousands already registered to exhibit or visit it will be an excellent opportunity for Corex to network with likeminded customers and businesses. as well as to showcase the full product range, which includes:

There will be plenty of opportunities to get in touch with the team through various networking rooms and a meeting request platform. The event will also have a conference area to access live streaming content, with some interesting talks throughout the day providing the latest information on composite materials. Visitors will also be able to view samples of aluminium composite panels which use aluminium honeycomb as the core material from our sister company Bespoke Composite Panels.

Corex Honeycomb will also be exhibiting at the upcoming Innotrans exhibition, taking place from the Tuesday 20th to Friday 23rd September 2022 in Berlin. More details about registration and attendance will be released nearer the time so be sure to follow us for updates.

Full details about JEC World 2022 are available on the JEC website. The Corex Honeycomb team will be pleased to make new business connections and to hear any requests you may have for our aluminium honeycomb.
---