Corex Honeycomb exhibition: Experience Composites 2016 in Augsburg, Germany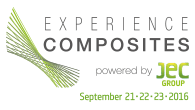 19

Sep, 2016
Corex Honeycomb Exhibition
Corex Honeycomb exhibition – Experience Composites 2016 in Augsburg, Germany from 21-23th September 2016. This exhibition has a 'multi-location format', which includes a composites trade fair, a conference, visits to companies using these composite materials, scientific institutes, instruction and training sessions and community events. This will be a new experience for us so come and visit us in Hall 1 on stand 508 to take part in this event.
This new event launched in 2016 by JEC Group, at Messe Ausgburg and CCeV for Composites and Innovative materials. It is a unique show concept in a strong industrial region. Every two years Experience Composites will offer a new opportunity to the industry to grow their business. It is unique due to its multi-location nature. there will be a trade show in two exhibition halls, one dedicated to the value chain, manufacturing phase and raw materials, the second to end-user sectors (Aerospace, Automotive and Transport, Construction and Infrastructure, Sport and Leisure ). Corex Honeycomb will be situated in Hall 1 and will be happy to discuss the many applications our product can be used for.
Experience Composites brings transparency to the fibre composites industry. Discover networked solutions involving fibre composites that can be deployed all along the value chain. The organisers aim is for those attending to find inspiration among the innovative products and systems developed by players from the international composites industry.
The event also provides opportunities for close collaboration between research and educational institutes, which will strengthen the industry's innovative character and open up new avenues for future development.
Testimonials after the event:
We thought that EXPERIENCE COMPOSITES was very good. We have reached our target group. That is of course the main aim of exhibitors at trade fairs. We are looking forward to 2018.

Roland Lutz, Managing Director, Gaugler & Lutz oHG
EXPERIENCE COMPOSITES presented itself as a platform for decision-makers and experts at the very first opportunity. Without exception the visitors were focussed on what we do. We had many interesting contacts. This is a start for future development

Andreas Stöckle, Site Manager ofAirbus Helicopters Deutschland
We are very pleased at winning the start-up award, but also at the coaching and publicity offered to us. The trade fair was well-attended and the concept is highly innovative. We visited and made the acquaintance of many interesting exhibitors. The trade fair was very well organised and it ran smoothly. We look forward to JEC World in Paris 2017, because we shall be presenting our plant which is ready for mass production.

Thorsten Gröne, Managing Director, Cevotec GmbH
---