Team Bath Racing 2017 season report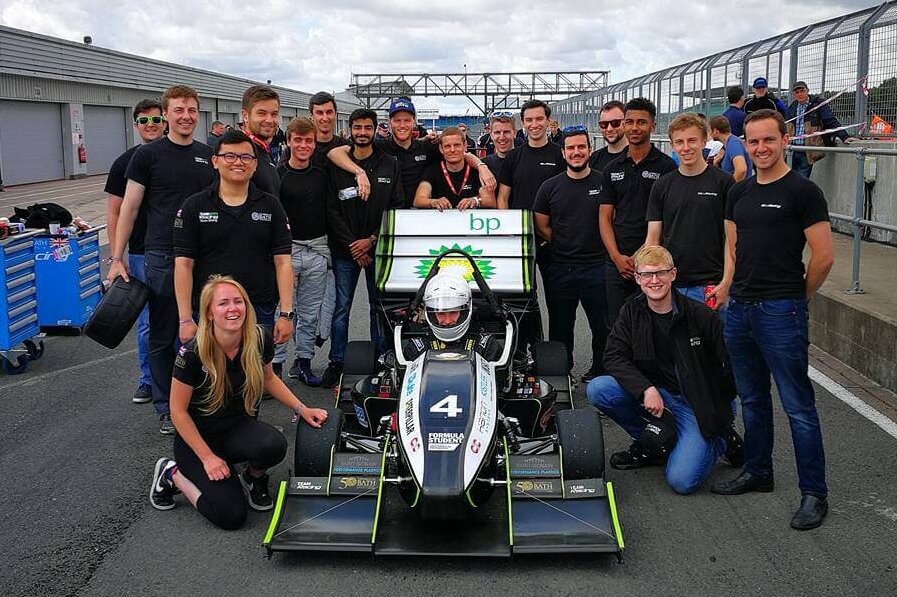 31

Aug, 2017
Team Bath
Team Bath Racing 2017, the student team we have sponsored from Bath University has had a turbulent racing season, but has taken away more positives than negatives as a team!
Formula Student UK
After the TBR17 launch in May 2017, the competition season kicked off at Formula Student at Silverstone, UK, where despite some appalling wet conditions, TBR17 set a respectable acceleration time, won the Skid Pad event, and were runners up in the Design event in the Class 1 competition. They performed the fastest Raw Sprint time of the competition but their front wing hit a cone, incurring a penalty and moving them to 5th. Overall they had a good day in terms of statistics, out of a field of 74: 12th in Business, 9th in cost and 2nd in design. Unfortunately, on the Sunday they had a fire in the engine bay which prevented them finishing the Endurance event. This was really disappointing as the car and drivers were performing consistently well, with lap times getting them to the top of the leader-board. Overall they managed to achieve a very respectable 9th place in the competition. The team working on the TBR18 celebrated winning the Design and Cost event and the overall Class 2 competition, which bodes well for next year's competition.
Formula Student Czech Republic
When the team competed in Formula Student Czech Republic they had a few technical issues which resulted in a placing in middle of the table for Sprint, Skid pad and Launch pad events but were unable to complete in the Endurance event. They managed a respectable 4th in the Design event and made the final of the Business event.
Formula Student Germany
With help from other Formula Student racing teams they were able to repair the car and head off to compete in Formula Student Germany, where they finished mid table for Wet Skid Pad and Acceleration. An issue with the size of the engine restrictor prevented them from scoring in the Endurance and Efficiency events, which was very disappointing for the team. However, they did make the final in the Design event.
Overall Team Bath were proud of the car they built; it looked stunning and took them to the design finals of all 3 events and was exceptionally fast when all systems were operational.
---